Welcome to The William Howard Taft Summer White House web site!
William Howard Taft [15 September 1857 - 8 March 1930] was our 27th President, and served from 1909 -1913.
This site was designed to display just some of the Taft related items that exist within the Beverly Historical Society's collections.
The site also contains the text from Beverly newspaper articles, and pictures of historical events for the years 1909 - 1912.
Taft decided after the election of 1908 to spend the summers of 1909 - 1912 in the small New England seacoast city of Beverly, Massachusetts.
And thus the "Summer White Houses" and the "Summer Capital" in Beverly, Massachusetts entered into history.
The page links to the left will tell you the whole story.
Please start with "THE STORY"
NOTE: This page and several others on this site, use midi and wave files to produce music and sound effects. If you are not hearing music on this page, then make sure both the midi/synthesizer faders & wave volume faders on your computer are selected, [checked in box] and turned up at least 3/4 of the way. With Windows 95, you double click on the speaker symbol at the bottom of the page and make the volume adjustment.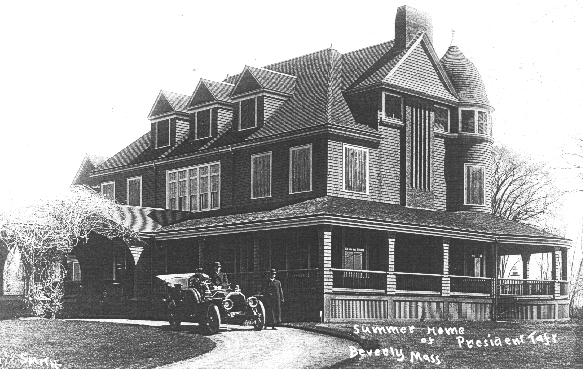 If you have read The Story, and visited all the Cartoon Pages, the Newspaper pages, and other links within this site, then it's time to visit
Questions?? e-mail us at info@beverlyhistory.org
This page was last updated on 07/23/03.